.
Only 100 prospective subclass 189 visa applicants received invitations in the 11 April round, and a mere ten Subclass 489 family sponsored visa hopefuls received an invitation to apply.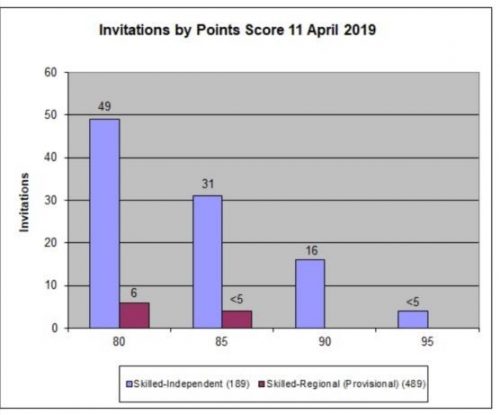 These results are extremely disappointing for those hoping to become permanent residents by way of the Skilled Migration (Skillselect) pathways.
2019 Program Year Invitations At All Time Low
Invitations have dropped to an all-time low this year and have cut the migration intake by stealth. We wonder if the brakes will be taken off the invitation rate once the election is over on 18 May, but we are not too optimistic about that.
The reason the invitations have decreased is that the Minister for Immigration has artificially set the points required for an invitation much higher than the points actually required to "pass" the points test – currently set at 65.
By way of example, the points required this round  for non "pro rata" occupations seeking a Subclass 189, Skilled Independent Visa invitation or an invitation for a Subclass 489 Regional Family Sponsored Visa (for which there were only ten invitaions) increased to 80, and those hopefuls with a "pro-rata"* occupation needed between 80 and 90! Even Accountants and Auditors needed 90 and 85 respectively. Ouch!
Incredibly, there were 16 invitations at 90 points and 4 at 95! We hope their points were tallied properly! (See our blog article about the danger of adding up your own points here)
*FYI "pro rata" occupations are classified as those where demand far exceeds the places available.
The following image shows the pro rata occupations and the scores required this round to receive an invitation:
As can be seen from the table, the minimum points score for Accountants increased to 90, Auditors and ICT Business and Systems Analysts are up to 85 points, and all other pro-rata occupations have increased to 80 as well. This is due to the smaller number of invitations issued in this round, and could change again if the quota is increased in upcoming rounds.
Let's hope things will improve after 18 May.
If you would like to book a consultation to discuss your eligibility or help adding up your points properly, you can do so here. Otherwise, send us a message below for any questions or queries.